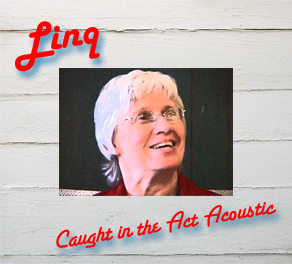 Money Today (Acoustic) 4:52
Disconnect (Acoustic) 2:58
On My Own Again (Acoustic) 2:51
Victim of the War (Acoustic) 3:28
Lady of the Night (Acoustic) 3:12
Sometimes, Somedays (Acoustic) 2:26
Addicted To Drugs (Acoustic) 3:23
Where Will the Wild Ones Go (Acoustic) 3:04
Don't You Understand (Acoustic) 3:20
Oh Bully (Acoustic) 3:22
Will You Care (Acoustic) 3:50
Released on September 27, 2011.
CAUGHT IN THE ACT ACOUSTIC:
Modern protest singer Linq takes a left-hand turn into the up-close-and-live with the release of her fifth full-length CD, Caught in the Act Acoustic. The eleven song disc of original tunes features her trademark straight-ahead political statements featuring only her warm alto, a clear expressive guitar and light percussion. Every song is a satisfying story, from the tale of a man who only lived to make money ("Money Today") to a passionate plea for peace ("Will You Care"). Most songs appeared on her earlier albums with a band; Acoustic strips away the production, boiling it down to the essential elements of melody and lyrics. The project was recorded live at the Institute for the Musical Arts (IMA) in Goshen, MA.