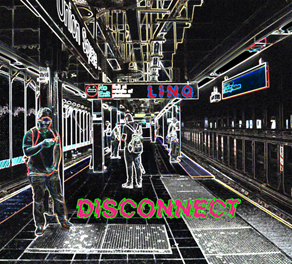 Seneca Falls to Selma 4:07
Disconnect 3:13
Patriarch (Apron Strings) 2:30
Pillow 3:24
Two Gunslingers (by Tom Petty) 2:57
Oh Bully 3:30
Living on the Edge of Disaster 2:24
Whatever Happened 3:38
Lady of the Night 3:21
Multicolored Bird 4:17
Dusky Mellow (instrumental) 1:25
On October 15th, 2013 Disconnect.
DISCONNECT:
Are you experiencing technical difficulties - every day? Maybe it's time to unplug. Linq explores the downside of our rapidly expanding technology on the title track as threads of connection and disconnection ghost their way throughout the songs on her latest release: DISCONNECT, released October 15th, 2013.


Folk singer Linq releases her sixth CD Disconnect
It's easy to see why modern protest singer Linq was voted OUTstanding OUTmusican in 2011 at the 7th OUTmusic Awards if you listen to her wonderful CD, Disconnect. With threads of connection and disconnection ghosting throughout, the eleven song disc features her trademark original political folk as well as a fitting Tom Petty cover. The songs feature her very capable band, with June Millington on guitar and more, Lee Madeloni on drums, bass and more; plus others on bass and percussion. Linq plays acoustic guitar and sings on these satisfying songs, from the title cut, about how too many of us can't tear ourselves away from modern technology, to the biting "Oh Bully," a tragic story of a youngster who took his life. Released on October 15, 2013, it is available at CD Baby, Amazon, iTunes and other sites.
The poignant "Oh Bully" is based on the true story of an eleven year old "beautiful boy with an easy smile." In the chorus, Linq sings, "Oh bully what have you done / Said you and your gang were just having fun." Each time those words come around, it becomes more poignant, ending with the boy's funeral and the bullying gang having to live with the ghost they created. "Seneca Falls to Selma" is a thoughtful ballad about civil rights that draws from three important events in U.S. history. It's one of those songs that leave the listener feeling stronger and ready to carry on with whatever work they're doing. In "Patriarch (Apron Strings)," a smart woman gets bad advice from a man – a universal theme that could be applied to all women. Linq sings about class in "Pillow," where an overheard conversation in an upscale hotel leaves her wondering about the refugee in a tent village who would treasure any pillow on any bed. The Tom Petty piece, "Two Gunslingers," fits in well with Linq's original songs, painting a vivid portrait of two fighters who decide to take control of their lives. There's a classic rock feel in "Living on the Edge of Disaster," about dwelling in the shadow of a nuclear reactor. Linq takes a more personal turn in "Whatever Happened," musing about a lost relationship and making the hard realization that it was time to move on. In "Lady of the Night," she sings compassionately about a prostitute who hopes that one of the men will "… make this wilted flower his own." June Millington`s electric guitar adds stabs of emotion. The last song, "Dusky Mellow," is a dreamy instrumental, perfect to end this many-flavored disc.
Linq is a former pharmacist who saw Led Zeppelin on their first US tour and loves Joan Baez. She`s not a wide-eyed hippie in tie-dye cooing about love and daisies, though. Earlier recordings contain songs about the health care industry, queer diversity, war and other topics important to so many. Linq performs around New England and at selected gigs outside the region. She's been the featured artist on several sites including Indiegrrl, Gay Guitarists Worldwide, GoGirlsMusic and more.
Linq firmly believes that music is the most effective tool we have to bring people together, whether it`s the tragic tale of a sweet young man or a more personal contemplation of a lost relationship. It`s all here on her excellent new CD, Disconnect.