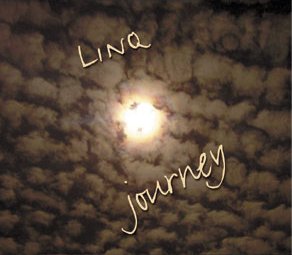 Album Photo by David Brothers
Journey 3:01
Livin' My Life Again 3:25
Ain't No Use 3:51
Lately (S.Mullins) 4:07
Through it All 4:07
Wolf & Dove 5:26
Ready For Love 2:40
Rock & Roll Woman 6:09
Ignorance (K.Chambers) 4:13
War Machine 3:31
Don't You Understand 3:17
Arthur's Song 2:38
Butterworth Farm 3:23
Ready for Love (solo version) 2:36
Journey 2004
Recorded at IMAeast in Goshen, MA with producer June Millington, and released in July 23, 2004 by Linqsongs Publishing.
"STRONG, unfaltering, and on a new journey, singer/songwriter Linq is opening her music up to the national scene and educating those who hear it on political and spiritual issues and issues facing the gay and lesbian community."
Diversions/ the Recorder, 4/7/05
LINQ winds her way through a guitar-driven collection of folk/rock songs that touch upon love and loss, friendship, and political issues. Her fans have compared her to Joan Baez, Joni Mitchell, Melissa Etheridge, and Sarah McLachlan among others, but in fact her vocals are her own unique sound. Her backup musicians bring her songs to a new level and include June Millington (Fanny, Slammin' Babes), Jean Millington (Fanny, Slammin' Babes), Julie Wolf (Ani DiFranco), Michaelle Goerlitz (Wild Mango), Janelle Burdell (Slammin' Babes), Lee Madeloni (Slammin' Babes), Loren Weisman (Alan Marcus Band), and Ellen Clegg (Found Sounds).
From the bare, folky fingerpicking of Wolf and Dove, to the classic rock sound of Ready For Love, to the psychedelic 60's sound of Rock and Roll Woman, she'll take you on a journey that you don't want to miss. And... her razor sharp statements on discrimination (Don't You Understand) and war (War Machine) speak for themselves.