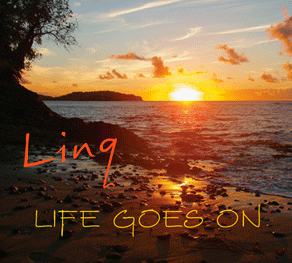 Where Will the Wild Ones Go 3:05
Change the Picture 3:13
Diversity Dance 3:46
Route 32 Blues 2:35
Ode To The Butterworth Boys 5:05
Life Goes On 3:29
George Orwell Where Are You? 3:30
S O S 3:47
Will You Care 4:18
Nothing Left To Give 3:58
Life Goes On Part 2 2:40
"Her lyrics challenge listeners the way that Michael Moore challenges viewers."
Ann Forcier, The Recorder, Greenfield, MA


WATCH THE VIDEO!
She saw Led Zeppelin on their first US tour and loves Joan Baez, but don't expect some wide-eyed hippie in tie-dye cooing about love and daisies. Sure, if you went to the first Woodstock and you want peace-loving music, you've come to the right place, but your kids will also love her refreshingly direct folk-rock with a touch of blues, vintage R&B and yep, even techno, with anthems that'll make you dance around your living room or call your congress person, some at the same time.
Her newest release LIFE GOES ON, released on April 14, 2009, was produced by June Millington (Cris Williamson) and features a stellar array of musicians including June on guitar, Jean Millington on bass, Jami Sieber (Ferron) on electric cello, and others, with songs about diversity, the state of the world and why you should drive slowly on Route 32.
"Diversity Dance" is a celebration of all that we are. With a thundering retro-disco bass and funky guitar, you'll want to shake your booty to:
You can dance if you're straight
You can dance if you're gay
Transsexual too
And bisexuality is cool
It doubles the dating pool
There's a little bit of Pink Floyd in "Where Will the Wild Ones Go," a song that wonders what happens when the bulldozers mow down our green planet. And if you didn't get that message, in "SOS" it appears again in a lament about the state of our world, all done to a techno beat with a moody electric cello and electronic sounds straight out of a horror flick, driving home the litany of political lies, fixed elections, the hole in the ozone layer and more.
You'll feel hopeful again with "Will You Care," a peaceful call and response anthem. Cellist Jami Sieber plays a lovely Middle Eastern type melody on this one, emphasizing the need for the whole world community to be involved. "Life Goes On" features water-tight harmonies about how change is an everyday part of who we are. You could also "Change the Picture" because no one is born a racist or a bully, we learn those things from others, and we can unlearn them too. The light hearted "Route 32 Blues" sounds like it belongs on an old AM radio, with its rootsy rock feel.
"Nothing Left To Give" has a cool groove and organ reminiscent of old R&B, perfectly matching the regret about a relationship she has to let go. The folky "Ode to the Butterworth Boys" is a nostalgic look at a loving community of gay men, with words written by Gerald Marcanio. Ending the disc is reprise of "Life Goes On" ("Life Goes On Part 2") that's part dance mix and part meditation, with lush harmonies and intricate percussion.